FEI and EquiRatings partner on risk analysis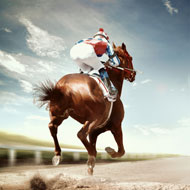 Colaboration to focus on welfare in Eventing and Endurance

The International Federation for Equestrian Sports (FEI) has partnered with data science company EquiRatings to work on risk management initiatives for Eventing and Endurance.

The partnership will see EquiRatings work with the FEI's extensive database, which has been collating statistics on fences, falls and injuries in Eventing for the last 10 years.

Initially, the project will focus on the implementation of the EquiRatings Quality Index (ERQI) at all levels of events. The index helps assess the risk of horse falls in the cross country phase and has proved an accurate indicator at national level.

The partnership will also see the FEI and EquiRatings further collaborate on horse welfare and data analysis projects in Endurance. This will include developing data analysis and predictive analysis tools to ease and manage risk for both human and equine athletes.

"This exciting new partnership with EquiRatings is part of a holistic approach to risk management, working with our national federations from grassroots right up to elite level", said FEI secretary General Sabrina Ibáñez.

"The ERQI is both a powerful tool for understanding and predicting risk in both Eventing and Endurance and brings a new layer of insight into the decision-making process at a global governance level.

"We have worked with EquiRatings in the past, but formalising this partnership provides us with a platform to move forward with more concrete analysis of the FEI's data, and gives valuable insight into performance and risk. It also has the potential to contribute greatly to the promotion of our sport and the way in which it is consumed by fans."

EquiRatings director Diarmuid Byrne added: "Managing risk in equestrian sports is a collective responsibility and we are delighted to be working alongside the FEI as we all play our part.
"This official partnership shows the ongoing commitment of the FEI and the FEI Risk Management Steering Group to new measures and tools. We will also be working with a number of National Federations around the world in 2017 to implement ERQIs at national level."