Scotland introduces new BVD 'positive' herd status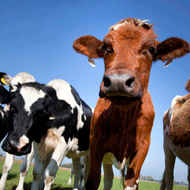 Status applies to herds that have a persistently infected animal

Scotland is to introduce a new 'positive' status to make the new Bovine Diarrhoea (BDV) eradication programme easier for farmers to understand.

According to Farmers Weekly, the Scottish government is adding the new status on 10 April to highlight that herds pose a higher BVD risk for those buying or transporting cattle, than "negative" and "non-negative" herds.

The 'positive' status will only apply to herds that have a live persistently infected animal. The herd will revert back to the current "non-negative" status once this animal has been removed.

Commenting, rural secretary Fergus Ewing said: "Eradicating BVD is an important step for the industry. Controlling the disease is centred on the identification of persistently infected animals and the timely removal of these animals from the herd.
"Such control measures are estimated to save the industry between £50-80 million over a ten year period."

He added that BVD is one of the most important diseases of cattle in terms of economic cost and welfare.

"That is why the cattle industry in Scotland, supported by the Scottish Government, remains determined to eradicate this disease from our herds," he said.