Tributes paid to hedgehog society founder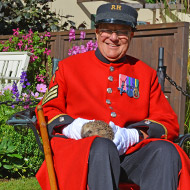 Major Adrian Coles passed away peacefully in Chelsea
The British Hedgehog Preservation Society (BHPS) has paid tribute to its founder, Major Adrian Coles, who has died at the age of 86.

In a statement, the charity said it was deeply saddened by the loss of someone who did so much for hedgehogs.

"We owe a debt of gratitude to Adrian, who leaves our thriving, active charity as a legacy to us all," said Fay Vass, chief executive of the society.

Major Adrian Coles passed away peacefully at the Royal Hospital Chelsea on 23 March 2017.

In 1982 he founded the BHPS and was instrumental in giving the hedgehog the high profile it enjoys today.

Major Coles was also a Shropshire county councillor, civic head and chairman, former chairman of South Shropshire District Council and former chairman of his parish council.

Well-known to members of parliament for his campaigns to protect the hedgehog, he appeared countless times on television and radio.

In 2000, he was awarded an MBE for his services to his community, was an honorary alderman of South Shropshire and was a Freeman of the City of London.

Major Cole recently moved to London where he wore the famous scarlet coat with pride.