BVNA elects Wendy Nevins as junior VP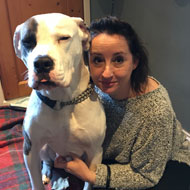 Wendy set to become president in October

Veterinary nurse Wendy Nevins has been elected as BVNA's junior vice-president for 2017. She will take up her new role with immediate effect and is set to become president of the association this October.

Wendy said she was "honoured" to have been chosen for the role and is "looking forward to continuing the great work" of past president Fiona Andrew and current president Sam Morgan.

"I am certain that the BVNA has an exciting few years ahead - watch this space," she added.

Congratulating Wendy on her election, Sam Morgan said: "Wendy was the first council member to run through our new selection panel devised by BVNA's Advisory Committee.

"This makes the process transparent and provides clear reasons why Wendy is a worthy candidate for this role. I am delighted to welcome Wendy as Junior Vice President of BVNA and know she will bring great experience and enthusiasm to the role."

Wendy began working as a trainee veterinary nurse at a small animal practice in Surrey during 1991. Since then she has worked in small animal and mixed practice as a head nurse, VN assessor and practice manager, and outside practice as a VNAC co-ordinator at Myerscough College. She now works as a consultant and locum veterinary nurse.