Rabies warning over pets bought online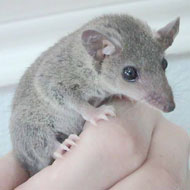 Opossums with no rabies vaccinations seized from pet shop

Cornwall Trading Standards is warning the public about the risks of buying pets online, after seizing illegally imported short-tailed opossums from a pet shop in the Midlands.

The animals were being sold online and had no import papers or rabies vaccinations, meaning they could have been infected with rabies and may even have been stolen from the wild.

Cornwall Council's Quality Standards and Animal Health team raided a property in the town of Lostwithiel, after an alert that three opossums could have been sent to the county. However, no animals were found and it became apparent that the animals had not been delivered to Cornwall.

Jane Tomlinson, Cornwall Trading Standards manager, advised: "Smuggled or illegally imported mammals have a very high risk of being infected with rabies. This is often a fatal disease in humans, and is always fatal to animals.

"Once again I urge everyone not to buy animals over the internet, and ensure you see the parents of any young animals before purchase. If animals are taken from the wild there is also a risk to the future conservation of species."

Cornwall Council has investigated five cases of illegally imported animals in the past year, several of which involved an animal bought over the internet, and resulted in large veterinary bills and animals being placed in quarantine.

Illegally imported animals face immediate quarantine at the owner's expense, or they must be exported back to the country of origin, again at the owner's expense. If the owner refuses to have their animal quarantined or exported, the animal will be seized and euthanised and the council can recover the cost through prosecution.

Anyone with information regarding the illegal import of exotic animals should contact Trading Standards on 0300 1234 191.
Image by Dawson/Wikimedia Commons CC BY-SA 2.5