Farmer enlists alpacas to protect sheep flock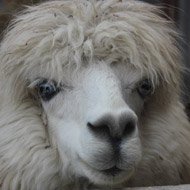 Camelids will guard against dog attacks
With spring just around the corner, a sheep farmer in Hampshire has employed two unlikely candidates to keep a watchful eye over his flock.

Gordon Wyeth of the West Dean Estate, Chichester, made headlines last year following 'one of the UK's worst sheep worrying incidents in living memory'.

The New Zealand Romney sheep, many of which were pregnant, were crushed and killed after they were herded into a tight group against a fence. The sheep were thought to be worth around £17,000.

Although there were no signs of the animals being savaged, police said they were 'all but 100 per cent certain' that dogs caused their deaths.

This year, to prevent a repeat occurrence, Gordon has enlisted the help of two male alpacas at the same site in Sussex. Affectionately named Tom and Jerry, the camelids will guard Gordon's flock of 500 ewes, due to lamb on 1 April.

"We want to avoid dog attacks on sheep at all costs. We have scanned ewes from this flock to check their pregnancy and we estimate that we have already lost more than £4,000 in lost lambs," Mr Wyeth told Farmers Weekly. "We believe these losses are largely down to dogs worrying our sheep."

Alpacas are good at guarding flocks, especially in lambing season, and will see off single dogs and foxes that are approaching the flock.

Mr Wyeth's shepherd Lizzie Rough, who bought the alpacas from a sheep farmer in Devon, said that the alpacas are fairly shy of people but they are alert to predators.

"If a dog is on a lead, then they're unlikely to approach, but they may well chase loose dogs that they see as a threat to the flock," she said.