New guidance for hand-rearing penguin chicks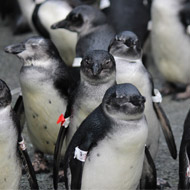 Researchers assess efficacy of body condition index

New guidance on the survival of abandoned penguin chicks admitted to rehabilitation has been developed by researchers at the Universities of Bristol, Exeter and Cape Town.

Working with the Southern African Foundation for the Conservation of Coastal Birds (SANCCOB) and Bristol Zoological Society, the researchers have developed a body condition index which uses mass and bill length to guide the removal of chicks.

The first model of its kind, the researchers say that the measurements are easy, quick and minimise the stress caused by handling.

"Using data from over 1,400 chicks rescued over six breeding seasons, we identified clear body condition thresholds that colony managers can use to prioritise the removal of chicks," said Joanne Morten from the University of Bristol. "These thresholds also allow the rehabilitators to rapidly identify individuals in need of critical attention."

Hand-rearing chicks is proven to be an important conservation action for endangered bird species, such as the African penguin.

Every year, the SANCCOB hand-rears abandoned African penguin chicks and releases them back into the wild. This 'chick bolstering project' aims to boost the African penguin population, while methods to establish new colonies near high prey abundance are developed.

In the study, researchers tested the effectiveness of a body condition index that is currently being used by African penguin colony managers. The research demonstrated its effectiveness, with only 2.3 per cent of chicks admitted with a body condition index so low there was a less than 50 per cent chance of survival.

"Hand-reared African penguin chicks are just as successful as their naturally-reared counterparts, but we don't want to cause undue stress and use resources unnecessarily," said Joanne. "The body condition thresholds identified in this study can be used to guide future management strategies, and can be rapidly incorporated."

'Body condition as a quantitative tool to guide hand-rearing decisions in an endangered seabird' by J.M. Morten, N.J. Parsons, C. Schwitzer, M.W. Holderied and R.B. Sherley in Animal Conservation.
Image (C) University of Bristol