Soi Dog co-founder Gill Dalley dies following short battle with cancer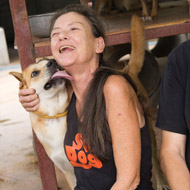 Charity pays tribute to champion of animal welfare

The veterinary profession is saddened to learn of the passing of Soi Dog co-founder Gill Dalley, who lost her short battle with cancer at the age of 58.

Having retired with husband John to Phuket in 2003, the couple were determined to do something about the horrendous stray dog and cat problem they had witnessed on previous holidays. They met a Dutch ex-pat called Margot who had also just retired to the same island and was of a similar mindset. It was then that the Soi Dog Foundation was born.

It was the charity's vision to humanely reduce the stray population through a programme of mass sterilisation, to provide medical treatment for the sick and injured, to give shelter and secure adoptions, and to educate young people on animal welfare issues.

Less than one year after the charity launched, Gill, who had been weakened by a broken rib, darted a dog which ran into a flooded former rice paddy. In retrieving the dog, Gill became infected with a rare soil-borne bacteria. She developed septicaemia a few days later and was given a 10 per cent chance of survival. Surpassing all expectations, she survived the illness but did lose both of her lower legs and suffered damage to her arms.

In December 2014, just three days after Gill was discharged from hospital, the Asian Tsunami struck, killing her best friend and Soi Dog volunteer Leone Cosens. Bound to her wheelchair, Gill showed enormous strength by counselling survivors and relatives of victims before commencing to work at mobile clinics.

Through sheer determination, Gill taught herself to walk again and for the past 12 years refused to use her wheelchair - despite her stumps often being covered with blisters. Through ill-health Margot was forced to take early retirement and Gill became the driving force of the Soi Dog Foundation, including the establishment of its first shelter.

Today Soi Dog Foundation is the largest foundation in Asia working with stray dogs and cats. Currently employing nearly 200 staff, registered in seven countries and aiming to achieve 100,000 sterilisations per year - and end the cruel Asian dog meat industry - it is expanding its operations to other countries in the region as well as throughout Thailand.

In a statement, the charity said: "Without Gill and her determination to carry on and beat the odds, Soi Dog Foundation simply would not exist today, and the stray dogs and cats of the region have lost one of their greatest champions. Sadly, despite fighting bravely for the past few weeks she faced a battle that even she could not overcome."

Gill leaves husband John to continue their work and her family of rescued dogs and cats.
Image (C) Soi Dog Foundation.