RSPCA reveals Britain's most 'unloved' pets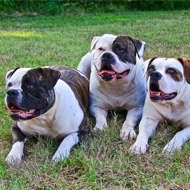 American bull dogs and brown cats spend longest time in care

With love in the air, the RSPCA has revealed the most 'unloved' breeds of dogs and cats in their care who are struggling to find their perfect match.

The American bull dog tops the list of pooches who spent the most time looking for love, with an average stay of 66 days. Staffordshire bull terrier crosses and huskies follow close behind, spending 60 days and 59 in care respectively.
Despite the popular belief that black and white cats are the most unpopular colours, the RSPCA figures show that brown cats may wait that little while longer (36 days) to find their forever home. Conversely 'blue cats' fly out of the centres, waiting just 18 days.

"The staff who care for our animals day in and day out know just how loveable each and every one is and how different they are from one another but we do find that some breeds and colours take longer to find their perfect match," explains Dr Samantha Gaines, pet welfare expert at the RSPCA.

"This is probably due to a combination of reasons. For example, size or beliefs about particular breeds and types can stop people from even considering the possibility of adopting an American Bulldog or Staffordshire Bull Terrier. "

This valentine's day, the RSPCA urges anyone considering a pet to do their research before they visit a rehoming centre - especially because the reputation of a particular type or breed is often undeserved.

"With so many of the same type of dog in our care or cats with the same coat colour, it can be difficult for individuals to stand out from the crowd despite their great potential, adds Samantha. "Sadly in some cases, animals are overlooked just because of how they look