Vets and medics perform rare spinal cord surgery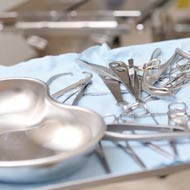 Human neurosurgeons helped to remove dog's tumour

US veterinary surgeons have teamed up with human neurosurgeons and radiologists to perform rare surgery on a dog's spinal cord.

Water rescue dog Anchor had an abnormality in her back left leg, which was previously thought to be degenerative arthritis, but after she fell from a boat, an MRI revealed she had a tumour on her spinal cord, the Pittsburgh Post-Gazette reports.

Anchor's owners were referred to Pittsburgh Veterinary Speciality and Emergency Centre (PVSEC), where veterinary neurologist Kendra Mikoloski said the tumour was compressing the spinal cord to 20 per cent of its normal size against the walls of the spinal canal.

It was initially unclear if the tumour was cancerous or benign, and whether it was growing from inside or outside the spinal cord. Even if it was benign, Anchor was at immediate risk of paralysis in her hind legs.

Veterinary neurosurgeon Tim Bentley, a professor at Purdue University Veterinary Teaching Hospital, said there have been just two previous reports of dogs with the same 'hemangioma' tumour, which resembles a blood blister in the same location on the spinal cord. In both cases, the diagnoses were made after the dogs had been euthanised.

Dr Bentley consulted two human radiologists for help with evaluating the tumour, as well as David Okonkwo, the clinical director at the University of Pittsburgh's Brain Trauma Research Centre. Dr Okonkwo commented: "Anchor's tumor is very similar to a form of tumor we see frequently in humans.

"One key focus of spinal cord tumor surgery at UPMC is to maintain an adequate blood pressure so oxygen continues to reach the spinal cord. Dr Bentley and I discussed how to translate that principal over to Anchor's surgery to preserve function in his hind legs."
The tumour was in the most unusual location for a tumour in the spinal cord, at the very top of the spinal cord with almost no healthy spinal cord tissue connecting the tumour with the spinal cord. But experts determined that surgery would be a good option for the five-year-old dog.
Following the surgery, which took one and a half hours, Dr Bentley said Anchor's back left leg was "working well but she couldn't support weight".
"The temporary damage — the concussion, bruising and swelling — will go away over time," he explained. The spinal cord will wake up. The deficits will reduce. She may not be neurologically normal but her quality of life will be normal."
Three weeks later she was undergoing rehabilitation therapy at PVSEC five days a week and is getting stronger each day. Dr Bentley is pleased with her progress so far but says it will be six months before the full results can be realised - it may even be possible for Anchor to resume some level of water work.
Dr Okonkwo said Anchor now has the chance for a full, healthy life. "|t was an honor to help Dr. Bentley and Anchor in any small way I could," he added.