Charities unite to rescue hens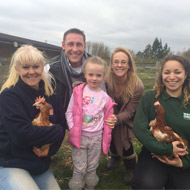 British Hen Welfare Trust and Wood Green find homes for hundreds of birds

Hundreds of hens have been handed over to the Godmanchester headquarters of Wood Green by the British Hen Welfare Trust, following a joint mission to rescue thousands of former commercial birds.

Over 300 hens are now available for adoption, with some already having found new homes.

Among those prepared to give the chickens a new home is Sarah Carr, who travelled from just outside King's Lynn with her daughter Bethany to claim 10 of the hens.

Sarah said: "I've always wanted hens and had been searching online to find out about rehoming, so we jumped at the chance to take 10 from this latest rescue.

"My daughter has been incredibly excited in the lead-up to the big day, and has been watching us build a coop and run in preparation.

"She's named some of the hens after Frozen characters, and was delighted to find we had six eggs on the first morning of having them."

The British Hen Welfare Trust has been finding homes for almost 500,000 ex-commercial hens, otherwise destined for slaughter, since 2005.

Two weeks ago, the charity joined forces with Wood Green to stage a rehoming rescue for thousands of former commercial hens.
Of the 250 hens that arrived on the first day, all were rehomed the same week.

Marie Channer, field and small animal welfare manager at Wood Green, said: "We are delighted to be working with British Hen Welfare trust on these rescues and enabling ex-commercial birds to have a better existence."

Julie Lankshear from British Hen Welfare added: "It is great to see these healthy, strong girls enjoying some well-earned freedom."

Hens are now fast becoming popular family pets in both urban and countryside areas. Among the celebrities said to be a fan of keeping chicks are Jamie Oliver, Jennifer Aniston, Oprah Winfrey and Billie Piper.

To find out more about rehoming hens visit www.woodgreen.org.uk.
Image (C) Wood Green