Four new cases of equine influenza confirmed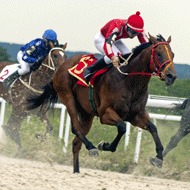 Vets confirm strain is Florida Clade 1

Four further cases of equine influenza have been identified in vaccinated thoroughbreds at a yard in Newmarket.

The affected yard, which belongs to Simon Crisford, is one of 174 yards being subjected to testing as runners competed at the Newcastle fixture on 5 February, which was identified as an at-risk fixture.

No non-urgent journeys should be made to this yard and anyone wishing to travel there should contact the trainer's office first, according to advice from the British Horseracing Authority (BHA). The Newmarket community, including veterinary surgeries, trainers, farriers and the racing school are urged to continue to practice increased biosecurity.

Over the weekend, a further three cases of equine influenza were also detected at the original affected yard, bringing the total to six.

The strain of equine influenza has been confirmed as Florida Clade 1, which is endemic to North and South America, according to BHA's veterinary committee. British horses are vaccinated against strains 1 and 2, and while cases are being seen in vaccinated horses, inoculatation still offers some protection, BHA said.

Thousands of nasal swabs have been sent out for testing and the Animal Health Trust is working to carry out testing as quickly as possible.

The BHA is expected to make a decision this evening (11 February) about whether racing can recommence on Wednesday.

David Sykes, director of equine health and welfare for the BHA, said on Sunday (10 February): "It remains paramount that, for the sake of our horse population, we do not take any unnecessary risks. This is not a common cold, it is a highly contagious and potentially serious disease.
"The prioritisation exercise with regards to testing will help deliver a detailed picture of the spread of infection. Targeted testing, alongside the wide survey of data we have already gathered, will help provide a clear picture as to the scale of the spread of the disease. Any decision will include guidance and input from veterinary experts, including the industry's veterinary committee."