Racing remains cancelled amid equine flu outbreak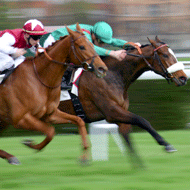 BEVA urges vets to be vigilant for signs of the disease
Horse racing will not resume until 13 February at the earliest, the British Horseracing Authority (BHA) has announced, amid ongoing concerns about an outbreak of equine influenza.

Three vaccinated horses tested positive for the disease at an active racing yard this week, prompting the BHA to halt all races across Britain yesterday (7 February). The infected horses raced at Ayr and Ludlow the previous day, potentially exposing a significant number of horses.

While the BHA said no further outbreaks have been detected, it can take up to three days for symptoms to appear. Samples will be collected and assessed by the Animal Health Trust so that an informed decision can be made on Monday (11 February). Declarations may then take place on Tuesday, allowing racing to resume on Wednesday,

Precautionary approach
As a precaution, trainers who had runners at the fixtures in Wolverhampton, Ludlow and Ayr this week have had their yards placed under a temporary hold, meaning they will not be able to make any declarations until their horses have been tested and cleared.

BHA said in a statement: 'This precautionary approach is intended to ensure we put the health of the horse population and control of the virus first, and avoid any unnecessary risk that might come from returning to racing too quickly. We appreciate the impact that this may have on the sport commercially, but disease control in order to mitigate the risk of further disruption to the sport – and safeguard the health and welfare of our horses – must be a priority.'

It is not currently considered necessary to cancel other equine events, according to the British Equine Federation, but this may change when the full extent of the outbreak is known.

'Be vigilant for signs'
Since the start of the year, several cases of equine influenza have been identified in counties across England, mostly in unvaccinated horses.

The British Equine Veterinary Association (BEVA) is urging vets and horse owners to be vigilant for signs of the disease, which may be mild and include coughing, nasal discharge, high temperature, swollen glands, depression and inappetence. Owners should isolate horses showing any signs and call a vet immediately.

BEVA is also recommending that owners should speak to their vet about whether to vaccinate with a booster. There is evidence to suggest that early boosters can be beneficial in times of heightened risk. Based on the virus type that has so far been identified, BEVA said vaccines containing the Florida Clade 1 serotype is likely to be the most appropriate.

The British Veterinary Association (BVA) is advising vets in mixed practice who may not see many equine cases to contact their laboratory if they are in any doubt to ensure they collect the right swab and blood tube samples.