Detection time for omeprazole reduced to 48 hours in racehorses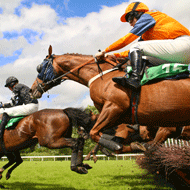 The British Horseracing Authority (BHA) has announced that the detection time for omeprazole has been reduced from 72 hours to 48 hours. This is effective from 1 February 2019.
Omeprazole can be prescribed for the management of gastric ulcers in racehorses; however, studies have recently become available that show no direct effect of omeprazole on performance.
Tim Morris, the Authority's Director of Equine Science and Welfare, commented:
"Medication control in horse racing is essential to allow treatment for good welfare but also to ensure fair racing by medication withdrawal before racing. Trainers have asked for more information, especially on anti-ulcer medications, and we have used existing information to make a harmonised detection time for omeprazole available as soon as we could."