Ivory bill becomes UK law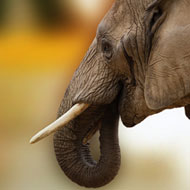 New bill bans the commercial use of ivory in the UK
A ban on ivory sales has become UK law in the Ivory Act 2018. It is predicted to come into force in late 2019.
Introduced in May 2018, the bill has passed parliamentary processes with support across the house.
Approximately 20,000 elephants are poached every year for ivory and the elephant population has dropped by nearly a third in the last 10 years.
Wildlife charity Born Free has welcomed the bill and calls it "a vindication of Born Free's long-standing assertion that only by banning the trade in ivory can we hope to bring an end to the poaching of elephants, who are being slaughtered on an industrial scale to provide the market with tokens and trinkets".
The Act will:
submit a total ban on dealing in ivory, irrespective of its age, within the UK. This will include imports and exports to and from the UK
introduce a new compliance system in which current owners of ivory can continue to trade in exempt items. Such allowances include musical instruments made before 1975 with an ivory content of less than 20%, and sales to accredited museums.
implement tough new penalties for anyone found guilty of disobeying the law.
Environment secretary, Michael Gove, commented:
"It is an extraordinary achievement to have passed this Act of Parliament. The Ivory Act is a landmark in our fight to protect wildlife and the environment. The speed of its passage through Parliament shows the strength of feeling on all sides of the House on this critical issue."