Vets scoop additional BEVA awards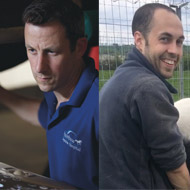 Voorjaarsdagen and BEVA Awards mark close relationship between Associations.

Two equine veterinary surgeons have received top awards in recognition of their contributions to equine veterinary science, health and welfare.

Clinical teaching associate Adam Redpath and equine medicine specialist David Rendle won the reciprocal Voorjaarsdagen BEVA Award and the Sam Hignett Award respectively for their presentations at BEVA Congress 2018.

Marking the close relationship between the two associations, the awards are selected and presented biannually, once at the Voorjaarsdagen Congress and then at BEVA Congress.

Adam won the Voorjaarsdagen Award for his paper 'Aminoglycoside Antibiotics; still essential in equine practice?'. In receiving this award, he gains free registrations to Voorjaarsdagen Congress 2019 where he will have the opportunity to present his paper again.

David received The Sam Hignett Award for the best clinical research presentation from general equine practice. His paper 'Efficacy of a novel palatable pergolide paste formulation for the treatment of pituitary pars intermedia dysfunction (PPID) in ponies', wins him free registration to next year's AAEP Annual Convention.
Other awards presented at BEVA Congress 2018 include The BEVA Equine Welfare Award, sponsored by Blue Cross, and the BEVA Richard Hartley Clinical Award.

Image (C) BEVA.