Home Direct service to alleviate horse crisis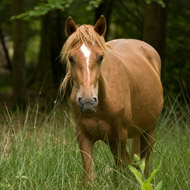 Service will free-up valuable space in rescue centres

A service to help owners find suitable new homes for their horses if they can no longer keep them has been launched by Blue Cross.

The charity's Home Direct scheme comes after the success of a similar Blue Cross programme for small animals, which was introduced in 2010. It will mean the charity can keep valuable space free at its rescue centres, ready for any urgent neglect or abandonment cases.

"We receive daily emails from owners who are unable to keep their horses any longer, says Emily Lambert, rehoming coordinator at Blue Cross. "The reason may be anything from the owner's failing health to horses that cannot no longer be ridden.

"We also have frequent calls from owners looking for help and advice on their horses and sometimes just listening and talking gives people the peace of mind that they are making the right decision."

Equine charities are currently receiving a high volume of calls every month from horse owners seeking new homes for their animals. With more than one million horses and donkeys in the UK, the charitable sector has limited available space and must prioritise welfare and rescue cases.

Home Direct will enable Blue Cross to care and support even more hoses. Under the scheme, every horse will be assessed by a member of the Blue Cross team and then advertised on the charity's website.

When a potential new owner has been found, Blue Cross will arrange and oversee an initial visit and, if it is a good match, the horse will be re-homed.

"We would much rather people approach us whilst their horses are still healthy than risk them being passed from pillar to post and potentially ending up in a welfare compromised situation and making more work for charities," Emily continues. "The great thing about Home Direct is we are helping people as much as we are helping horses."

The Home Direct service is being offered to other equine welfare charities that don't specialise in rehoming. Any horse can be considered for the scheme, as long as they pass a health check and are not on any long term medication.