Locust study aims to reveal insights into hearing loss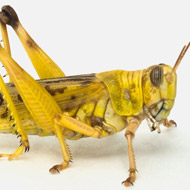 Researcher awarded Royal Society University Research Fellowship

An unlikely insect has been employed to help researchers understand why hearing loss occurs in animals.

The insect, a desert locust, will be used by University of Leicester researcher Dr Ben Warren to understand how sound gets converted into electrical signals, which animals then hear.

Dr Warren explained that the desert locust has ears either side of its abdomen. This means that its auditory nerve cells can be easily accessed and the electrical signals can be recorded in response to sound.

"This will be exploited to identify the protein that converts sound into electrical signals; this sound-transducing protein is considered the 'holy grail' by many in the auditory neuroscience field," he said.

Dr Warren also hopes to develop funding opportunities to use the locust ear to gain insights into age-related and noise-induced hearing loss, from which both humans and locusts suffer.

The research has been made possible thanks to a prestigious Royal Society University Research Fellowship, awarded to Dr Warren after submitting a written research proposal and convincing a panel of experts.

"Suited-and-booted in my brother's one-size-too-large-suit, I sat in front of 16 interviewers and attempted to sell them the dream of using the desert locust to understand how we hear," he said.
Image (C) University of Leicester