Endangered lemur born at Edinburgh Zoo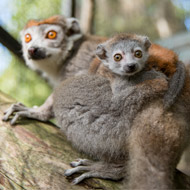 Keepers at RZSS Edinburgh Zoo are celebrating the birth of an endangered crowned lemur. It is expected that the newborn will cling on to its mother for around four months until it becomes more independent.

Native to Madagascar, crowned lemurs are listed as endangered on the IUCN red list. Habitat destruction for logging, cultivation and forest fires is believed to have contributed to the decline.